The Journal
The International Journal of Psychology and Psychological Therapy (IJP&PT, ISSN 1577-7057) is an interdisciplinary journal that publishes empirical and theoretical contributions in any of the areas of Psychology. IJP&PT is opened to contributions in Spanish and English languages that are reviewed by a prestigious Editorial Board with selected researchers, academics, and professionals.
Last issue
Volume 16 Num. 1 March 2016
Acknowledgement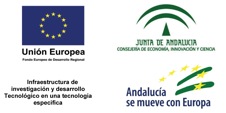 IJP&PT ha recibido fondos para la mejora de su página web y para la promoción en universidades extranjeras cofinanciados por la Junta de Andalucía y los Fondos FEDER (Consejería de Economía, Innovación y Ciencia, Incentivos para la realización de actividades de carácter científico y técnico, Resolución 1/2009 de ayudas)
Las universidades de países latinoamericanos que deseen beneficiarse de esta campaña de promoción de IJP&PT y no hayan sido contactadas previamente, pueden ponerse en contacto con nosotros a través de la dirección de correo electrónico riptp@ual.es.